Archive | Uncategorized
#16 "Gifted" Children January 22, 2008 by clander #78 Multilingual Children February 28, 2008 by clander
Some of us owe more to the inspirational role of Mister Kotter than any Bachelor or Masters of Education. Thanks Gabe!
More news about the UNCLOS claim to be formulated by France on behalf of Saint-Pierre et Miquelon in the next few days. French seabed bid necessary for St-Pierre survival, residents insist French claim on seabed invalid, PM tells Williams
Noted News Items St-Pierre-Miquelon pushing France to make seabed claim – Evening Telegram Canada to fight French claim to sea shelf: minister AFP – 1 hour ago – The French government faced intense pressure from the economically marginalized citizens of the French islands of Saint-Pierre and Miquelon to stake a claim … France renews claim to Atlantic […]
RadioBarachois.net is the English Language service of RadioBarachois.com, a news and information site about Saint-Pierre and Miquelon, French islands located South of the island of Newfoundland. More information about Saint-Pierre and Miquelon can be obtained from various sites : RadioBarachois.com [French] – St-Pierre-et-Miquelon.com [Tourism Information] – GrandColombier.com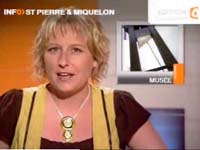 The State Museum of St Pierre and Miquelon has put the island's guillotine on permanent exhibit. This famous instrument of capital punishment was used once in 1889 for the execution of one Auguste Néel for crimes committed in the previous year. The St-Pierre execution was made famous in 2000 by Patrice Leconte's movie, La Veuve […]
Citing poor viewership, Bell ExpressVu cancelled RFO St Pierre et Miquelon (Channel 147) from their services.