Political Representation of Citizens Abroad – The French Example
Historical origins
France has always had a special relationship with its citizens living abroad for two main reasons: the role these citizens played in both World Wars and France's colonial past.
Before the world wars of the 20th century, France's widespread colonial empire pushed the issue of political representation of colonists to the forefront; this is why several French colonies had their own members of parliament or elected delegates to specific colonial chambers[1]. It was however, the First World War, with its staggering human toll, that posed the question of citizenship and political rights for expats and emigrants.
Great numbers of French citizens, born abroad, had joined the ranks of the French armies by patriotism, but it was through death that glaring differences came to be. The children of French nationals from France and its colonies had rights; they could become wards of the state with clear benefits. This was not the case for the children of French nationals who lived abroad. The long-term consequence of this political decision put into motion the need for political representation for French expats and emigrants[2].
Following France's collapse during the Second World War, the regime of Marshall Pétain failed to demonstrate it was little more than a dark satellite of the Third Reich with little or no power over the southern half of the country, the northern partition being controlled from Berlin.
It was during those dark hours of the war that Britain, under the stewardship of Winston Churchill decided to recognize and support the Free French: a hodgepodge of escaped officers, soldiers, politicians and civil servants, standing amongst them one General Charles de Gaulle.
This was to be the hour of glory for French expats and emigrants, whilst continental France grappled with Occupation under the German forces; they became the soul of France in the eyes of public opinion and the true legitimate France in the eyes of the Allies.
Following the liberation of France and the formation of a new republic, France gave French expats and emigrants true political representation, first with senators (1947) and a consultative body with delegates from around the world (1948) known as the Conseil supérieur des Français de l'étranger (CSFE). Over sixty years later, it was Nicolas Sarkozy's government who created eleven new members of parliament (2012)[3] for citizens abroad.
France's Model for Representation of Citizens Abroad
There are over 2.5 million French people living abroad, and more than 1.7 million of them have registered to vote[4]. For instance, a French citizen living in Wexford, Ireland, can vote for four Councillors to represent him at the local French consulate in Dublin, as well he can vote for a Member of Parliament and is represented by Senators in the upper chamber. He can also vote for the President of the Republic and partake in Referendums.
Consular Councillors – Conseillers consulaires
French citizens living abroad vote for Councillors who represent French citizens abroad at the Consular level. Consular councillors are members of a consultative body that meets on a regular basis to allocate educational bursaries, as well as other funds.
This local council, at the Consulate or Embassy, is purely consultative and presided by the local top diplomat. Councillors often become the main interlocutor between French citizens and the labyrinth of the French administration.
These councillors address or dispatch requests, questions and problems raised by citizens living abroad to the Consul general, the Ambassador, Senators or Members of Parliament. Councillors are also often politically aligned with parties in France.
Consular councillors are elected to a 6-year mandate.
A district can have from 1 to 9 councillors depending on the number of citizens registered on the Consulate's voting rolls.
Consular councillors receive a small stipend based on the cost of living of their respective countries.
Amounts vary from 2600 to 3800 euros annually.
90 out of the 443 councillors are called biannually to Paris for a general assembly of the Assemblée des Français de l'étranger.
Members of Parliament (National Assembly)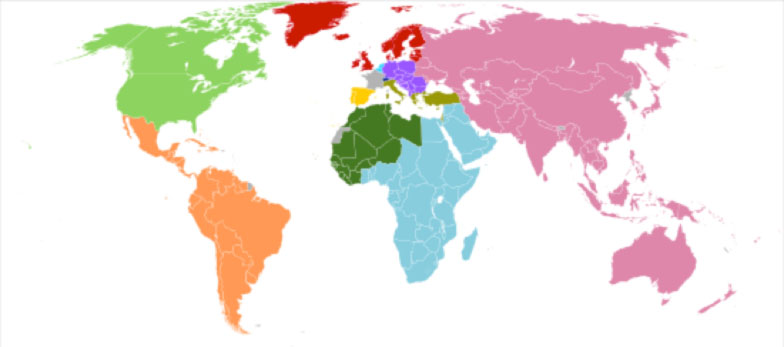 Figure 2 – The 11 districts for French MPs representing citizens living abroad
French expats and emigrants can, if they choose, vote for their own member of Parliament who represent one of 11 districts[5]. These districts can contain anywhere from two countries (District 1 is formed by Canada and the United States of America) to 33 countries (District 2 is all of the Americas except those in district 1).
French MPs are elected to a 5-year mandate barring dissolution of the chamber.
Electronic voting is possible.
Voting is also possible at the ballot box; polling stations are usually located in Consulates and Embassies.
Senators
French citizens living abroad also have twelve senators, who predate the MPs by many decades. Contrary to the MPs, Senators don't have specific districts[8].
Senators are elected to a 6-year mandate.
They are elected by an electoral college, which includes 443 Consular councillors.
Presidential Elections
French citizens abroad can also vote in the presidential election. In fact, French citizens in the Americas, as well as overseas territories west of France, get to vote on the Saturday preceding the day of the general election in France.
The vote is only possible at the ballot box; polling stations are usually located in Consulates and Embassies.
Political Representation of Citizens Abroad Around the World and Voting Rights
France is not the only country to have political representation for citizens abroad, but expat and emigrant representation is still the exception around the world. The list of countries is quite short: Portugal (2 MPs), Croatia (6), Italy (12MPs[9], 6 senators), Tunisia, Algeria, Ecuador, Columbia and Angola have political representation for citizens abroad.
Some countries have voting rights without specific political representation.
Americans living abroad have limited voting rights: Soldiers deployed overseas for example, use Absentee Voting ballots[10]. Some Americans living abroad partake in party politics. Democrats Abroad for instance is the official Democratic Party arm for the millions of Americans living outside the United States[11]. The Republican Party also has a network of similar but less prominent associations.
British citizens living abroad can apply to be an overseas voter, but the right is limited to 15 years and one must have been registered to vote in the United Kingdom and eligible to vote for parliamentary general elections[12].
Canadians living abroad can register for the International Register of Voters[13]. However they must "confirm that they intend to return to Canada to reside by providing the date on which they intend to resume residence in Canada, and confirm that they have resided abroad for less than five consecutive years". With a great number of Canadians living and working in the United States, the issue of voting rights arose during the last Federal election[14].
Irish citizens living abroad currently have no voting rights[15].
Conclusion
The French model for the political representation of Citizens living abroad is generous and complex. No state should embark upon the implementation of such a system without careful preparation, however these same states must recognise there is a global trend for giving expats and emigrants more political rights while living abroad.
Bibliography
French expats prepare to vote in parliamentary elections. Lizzy Davies. The Guardian, Friday 1 June 2012.
Qu'est-ce que l'AFE ? – Senator Joëlle Garriaud-Maylam. 2008. L'information citoyenne, éditions l'Archipel.
Le Sénat, Jacques Baguenard. 2003. Presses universitaires de France.
Links between Europeans living abroad and their countries of origin. Recommendation 1410 (1999). http://assembly.coe.int/nw/xml/XRef/Xref-XML2HTML-en.asp?fileid=16705&lang=en
Notes
[1] Conseil supérieur des colonies (1883 – 1935), Conseil supérieur de la France d'outre-mer (1936 – 1940).
[2] Qu'est-ce que l'AFE ? – Senator Joëlle Garriaud-Maylam. 2008. L'information citoyenne, éditions l'Archipel.
[3] French expats prepare to vote in parliamentary elections https://www.theguardian.com/world/2012/jun/01/french-expats-vote-parliamentary-elections
[4] French decree: official population of overseas districts. https://www.legifrance.gouv.fr/eli/decret/2017/1/12/MAEF1700023D/jo/texte
[5] Constituencies for French residents overseas https://en.wikipedia.org/wiki/Constituencies_for_French_residents_overseas
[6] Policy on Foreign Elections in Canada and Foreign Electoral Constituencies http://www.international.gc.ca/protocol-protocole/policies-politiques/elections_faq_elections_qr.aspx?lang=eng
[7] Foreign Elections in Canada and Foreign Electoral Constituencies http://www.international.gc.ca/protocol-protocole/policies-politiques/circular-note_note-circulaire_xdc-1264.aspx?lang=eng
[8] French Senators for Citizens Abroad http://www.senat.fr/expatries/
[9] Overseas constituencies of Italian Parliament https://en.wikipedia.org/wiki/Overseas_constituencies_of_Italian_Parliament
[10] Absentee Voting Overview https://www.fvap.gov/citizen-voter
[11] Democrats Abroad http://www.democratsabroad.org/
[12] Overseas voters (UK) https://www.aboutmyvote.co.uk/register-to-vote/british-citizens-living-abroad
[13] Registration and Voting Processes for Canadians Who Live Abroad http://www.elections.ca/content.aspx?section=vot&dir=reg/etr&document=index&lang=e
[14] Long-term Canadian expats denied right to vote, court rules http://www.theglobeandmail.com/news/national/no-voting-rights-for-long-term-canadian-expats-appeal-court-rules/article25590714/
[15] External voting: a GlobalIrish.ie factsheet http://www.globalirish.ie/issues/emigrant-voting/