Why Are Canadian Politicians Meddling in French Affairs?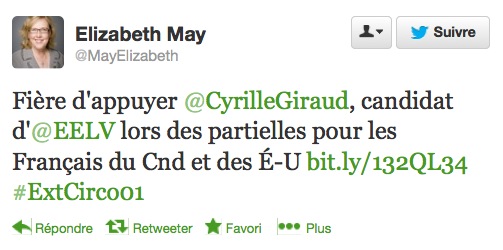 Most Canadians are completely unaware there is a French election currently going on in North America[1]. And who could blame them? Even amongst French expatriates, over 85 % of eligible voters didn't bother to turn out at the polls during the first round of this latest election.
Just about a year ago, when François Hollande was swept into power by a wave of anti-Sarkozy sentiment, the following legislative elections gave Mister Hollande a comfortable majority in France's parliament. Because of irregularities, Corinne Narassiguin, the Member of Parliament for North America was removed from her seat and a by-election was called.
At this point in time, there are only two candidates vying for the position after the first round eliminated 10 other candidates. The current favourite is a Former secretary of State of last Sarkozy government, his opponent a member of the Socialist Party of France.
Last year's election was almost banned from Canadian soil[2]. because the Federal government was strongly opposed to having Canada included in any foreign electoral district. Were they worried about the French, once again meddling in Canadian affairs? Possibly.
What has actually happened is the complete opposite: Canadian politicians are meddling in French affairs. Two members of Canada's House of Commons have openly declared their support for candidates and one former member of the Parti Québécois has rallied behind the Socialist candidate.
The first Canadian politician to meddle in French Affairs was none other than Elizabeth May who proclaimed her support for the French Green Party candidate, one Cyrille Giraud. Ref (1) – Ref (2)
The second elected official, one Alexandre Boulerice, represents the Rosemont—La Petite-Patrie district from Quebec. This member of the Federal NDP party has thrown his support behind the Socialist candidate and proudly claims he would meddle in any election as per his leftist convictions. Ref (3) – Ref (4)

The third case is a little more complicated. Former cabinet member, Louise Beaudoin is not only a separatist, a member of the Parti Québecois, she is also a French citizen. As such, she is certainly entitled to her opinions within this by-election. What's surprising to most is the fact the Socialist Candidate sent out invitations to about 20 000 French citizens announcing her presence and her political colours at his next political meeting in Montreal. Ref (5) – Ref (6)
All this begs the question: should Canadian politicians be meddling in French Affairs?
Imagine the outrage if US Republicans or Democrats started throwing their support behind candidates for Canadian Parliament?
I am a dual citizen of Canada and France, and I'm staunchly opposed to such political interference.
What do you think?
Disclaimer: I am currently supporting the opponent of the Socialist Candidate. Unless you're French, that's really none of your concern isn't it?
---
[1] The electoral district includes Canada and the United States but not Mexico.
[2] Foreign Elections in Canada and Foreign Electoral Constituencies Circular Note No. XDC-1264 of September 8, 2011 – " It must be emphasized that, as a matter of policy, the Government of Canada will continue to refuse requests by foreign States to include Canada in their respective extraterritorial electoral constituencies. Also, the Department will not allow foreign governments to conduct election campaigns in Canada or establish foreign political parties and movements in Canada. "