Hagan, New Mexico
Ghost towns are aplenty across the United States, especially in the South West. Most are no more than a few outlines and at the intersection of two dirt roads, but all the same they are reminders that our cities and towns are also mortals. Once in a while, you stumble upon something different, a place so unique you return time and time again. Such is Hagan, New Mexico.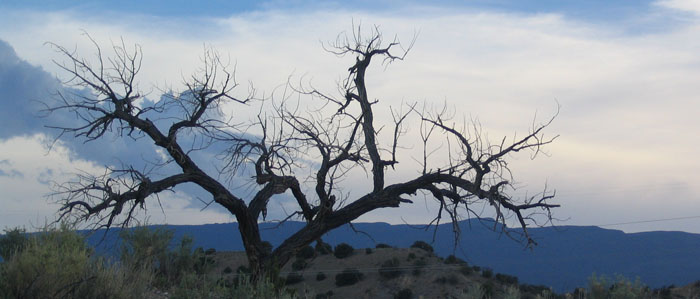 Located between Santa Fe and Albuquerque, Hagan is accessible by a dirt road that begins at the very back of the San Felipe Hollywood Casino parking lot. Although the site is only a few miles from Interstate 25, the trek will take about a half hour. Do not attempt this drive if it is raining, the many arroyos will flash flood and cause serious grief for you and your vehicle.

The history of Hagan is intertwined with the history of coal and the rail road. First settled by coal miners in the first years of the 20th century, the town had under a hundred inhabitants. Named for mining investor William Hagan, by 1910, the coal mine and settlement were abandoned as transporting the coal by wagon to the nearby San Felipe Pueblo was too costly.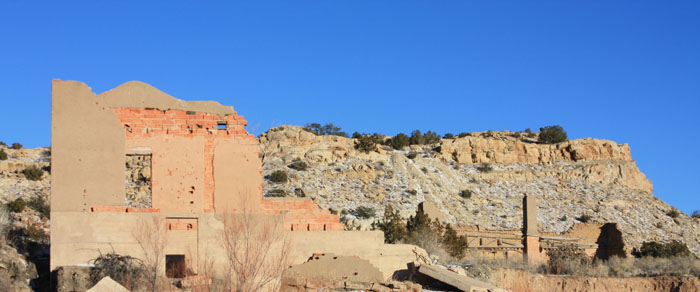 In 1919, a Louisiana investor re-opened the mines and connected the town with the Atchison, Topeka and Santa Fe Railroad in San Felipe. By then, the town had over 500 inhabitants and its own power plant, running water, post office, a general store and a hotel but before long the coal ran out in 1931 and the town died out by the 1940s.
Today various buildings are still partially standing; they are the power plant and the mercantile. Others, built with adobe brick, are dissolving away with time. The colourful landscape offers tones that go from golden to ochre, a stark contrast to the crisp blue skies that are so frequent in the land of enchantment.
Update (Oct 20, 2011) : as per the comment posted below, the town of Hagan is private property and access is only possible through NM Jeep Tours.
Photos: S. Kelly
More info :