Saint-Pierre and Miquelon's Guillotine on Exhibit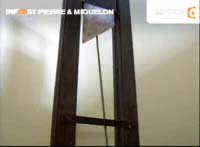 The State Museum of St Pierre and Miquelon has put the island's guillotine on permanent exhibit. This famous instrument of capital punishment was used once in 1889 for the execution of one Auguste Néel for crimes committed in the previous year.
The St-Pierre execution was made famous in 2000 by Patrice Leconte's movie, La Veuve de Saint-Pierre [The Widow of Saint-Pierre – IMDB], a movie loosely based on fact with Juliette Binoche, Daniel Auteuil and Emir Kusturica.
Being North America's only guillotine, the Saint-Pierre's Museum's exhibit is sure to attract attention, curiosity and interest. Lore and legend surround this guillotine, some claim it was the one used one Marie Antoinette, but records show it was sent to Saint-Pierre town from Martinique in the West Indies.
A mysterious photograph of  Auguste Néel's mummified head has surfaced. It is rumored to have been taken by Doctor Thomas, a lead doctor in the local hospital, sometime in the early 20's. [More about this at GrandColombier.com – French Only]
Local news anchor announces
the new exhibit (22/06/08). [RFO]
Closeup of the guillotine's "lunette"
View from above
View from below
View of the platform where the body was attached
Musée de l'Arche.
The local government of Saint-Pierre & Miquelon operates this State Museum. Temporary and permanents exhibits showcase the islands History and Culture.
Location: rue du 11 Novembre
F97500 Saint-Pierre
Saint-Pierre and Miquelon
(Via Montréal Transit)
Phone: 011 508 41 04 35
Fax: 011 508 41 04 36
Saint-Pierre and Miquelon Television
rue Gloanec
F97500 Saint-Pierre
Saint-Pierre and Miquelon
(Via Montréal Transit)
Phone: 011 508 41 11 11
Fax: 011 508 41 11 00
Newsroom: 011 508 41 11 10
Illustrations: RFO Saint-Pierre et Miquelon